Santa's Sauna Blanket Starter Kit
Sauna Blanket + Towel Insert + Cleaner + Blanket Bag
Regular price

$956 USD

Sale price

$699 USD

Unit price

per
DISCOUNTS ALREADY APPLIED IN THE PRICE.
NO CODES NECESSARY
Further discount codes do not apply.
Turn up the heat this holiday season. The Sauna Blanket Starter Kit is the perfect gift for the wellness pro in your life whose addicted to that detoxifying sweat & high that a sauna gives you. We bundled our best-selling Infrared Sauna Blanket with our organic cotton sweat-absorbing Towel Insert, Sauna Blanket Bag, and our High-maintenance Tech Cleaner, creating a spa-level starter kit that makes it easy to turn up the heat and soak up a sauna's endless benefits. We're sure they'll love it. You'll know by their glow.
INFRARED SAUNA BLANKET
• Heat Zones: One heating zone
• Display: 1-8 level
• Control: Black color controller
• Voltage: 100-120 Volt (US/Canada model); 220v (UK/EU models)
• Wattage: 350-420 Watts
• Amps: 4-5 Amps
• Timer Settings: 1 hour
• Electrical Field: Low EMF
• Warranty: One-Year limited warranty. See details here.
• Size: 71 x 71 inches (180 x 180 cm), unfolded. Maximum interior circumference when in use is approximately 65 inches (165 cm)

SAUNA BLANKET TOWEL INSERT
• SIZE: 30" x 69" • Material: 100 % GOTS Certified Organic Cotton


SAUNA BLANKET BAG
• Made with recycled ocean plastic
• Adjustable volume : 20-30L
• Dimensions: 17" ( Expandable to 26") X 13" X 6" (HxWxD)
• Weight: 2.20 lbs
• Flexible roll top and adjustable side straps
• Water-resistant material
• Do not machine wash, dry clean or iron
• To clean use warm water and wipe down with a microfibre cloth
• Color: Black

HIGH MAINTENANCE CLEANER
400 ml reusable aluminum spray bottle.
Concentrate Ingredients: Concentrate Ingredients: Filtered Water, Essential Oil Blend (Palmarosa, Siberian Fir, Sweet Basil, Peppermint, Litsea Cubeba), Caprylyl Glucoside (A biodegradable, sugar-derived cleanser with a top safety rating from EWG), Probiotics (Provides a deep clean, gets into hard-to-reach nooks and crannies, and generates enzymes that will continue to protect the surface of your device over time), Sodium Gluconate (All-natural preservative that helps keep your cleaner free from unwanted microbes).

Slip into your SAUNA BLANKET with your TOWEL INSERT, turn up the heat, and prepare to transform – from the inside out. We suggest preheating for 10 minutes before getting in for a faster sweat. Enjoy up to a 50 minute sweat session in your blanket.
How to clean your sauna blanket:
Wait for your blanket surface to cool down. Spray cleaner + Wipe dry with clean dry cloth or paper towel. We suggest cleaning after every use to keep your Sauna blanket pristine. Fold and store your sauna blanket in your sauna blanket bag. Extra room and pockets allow for you to store your accessories and towel together.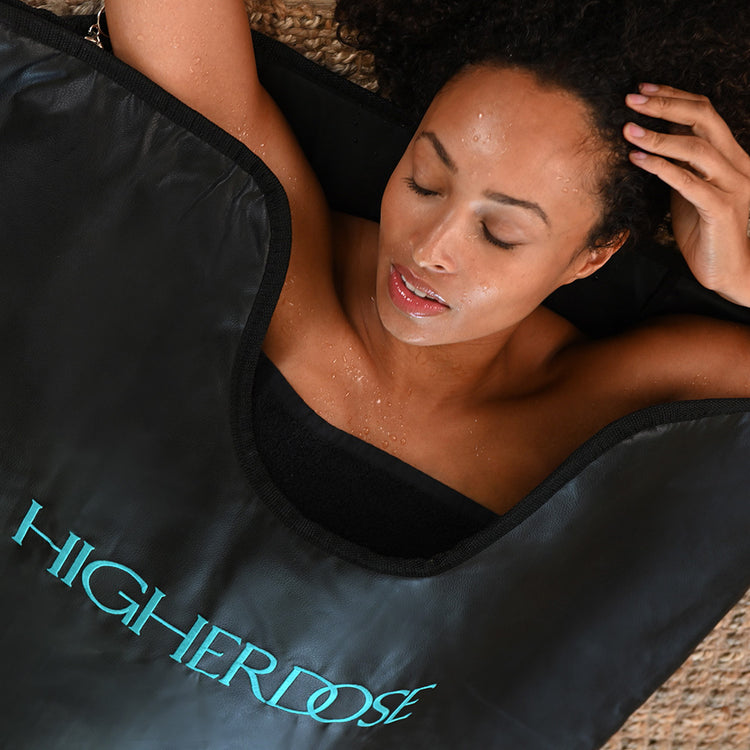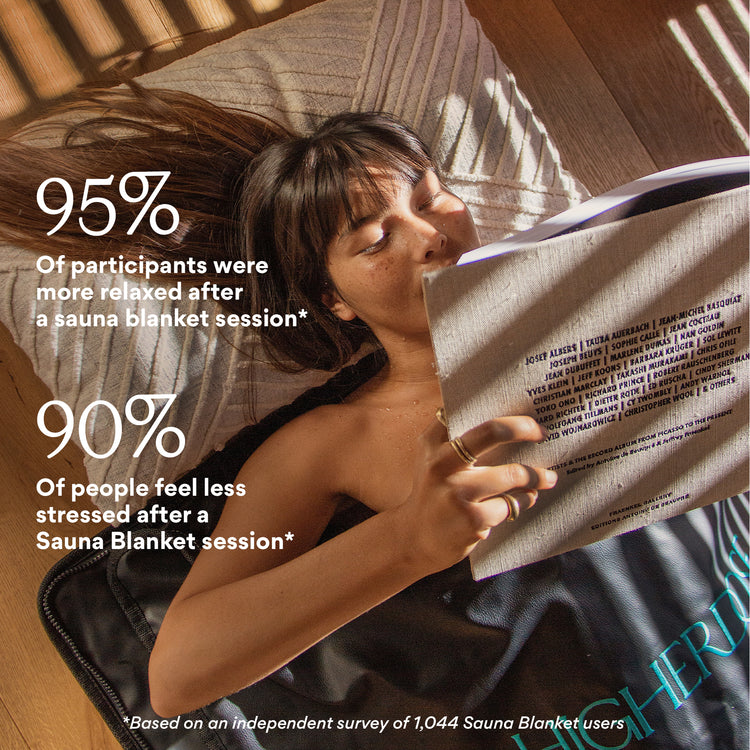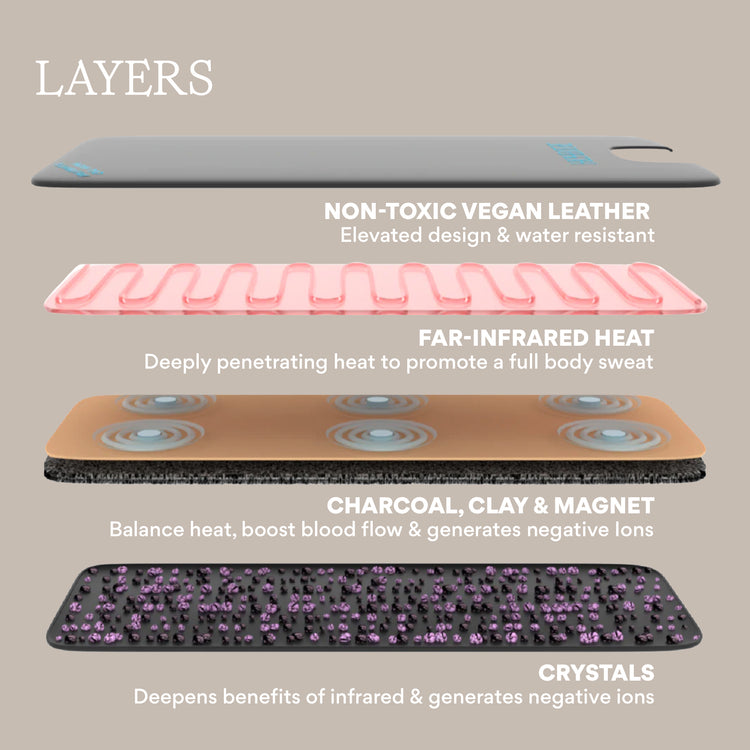 What's Included

Infrared Sauna Blanket
#1 Sauna Blanket: A Workout Without Working Out

Infrared Sauna Blanket Insert
Experience your blanket in the buff.

High Maintenance Cleaner
Low maintenance wellness tech cleaner

Sauna Blanket Bag
Take your blanket anywhere.