Glow Serum
Regular price

Sale price

$79 USD

Unit price

per
Activate natural radiance
CHRISTMAS SAVINGS. 15% OFF SITE-WIDE.
USE PROMO CODE: HOLIDOSE15
The HigherDOSE Glow Serum is formulated to plump, hydrate, and stimulate radiant skin. This innovative light-activated formula is designed to boost the benefits of the HD Red Light FaceMask. Used alone, the nourishing blend of bio-nutrients & hyper-clean ingredients is powerful on-the-go hydration. Your skin is about to glow up.
1 oz Glass Bottle with a pump
INGREDIENTS : Aloe Barbadensis Leaf Juice, Glycerin, Niacinamide, Propanediol, Aqua, Glyceryl Polymethacrylate, Sucrose Stearate, Phenoxyethanol, Sclerotium Gum, Sodium Hyaluronate, Aminopropyl Ascorbyl Phosphate, Propylene Glycol, Hydrolyzed Hyaluronic Acid, Ethylhexylglycerin, Laminaria Japonica Extract, Palmitoyl Tripeptide-1, Phosphatidylcholine, Dipalmitoyl Hydroxyproline, Sh-polypeptide-50, Sli-polypeptide-121, Sr-hydrozoan Polypeptide-1, Copper Tripeptide-1, Lecithin, Potassium Sorbate
Clinically proven to**:
Reduce redness, fine lines, and wrinkles
Smooth skin texture
Enhance skin barrier properties
Boost your skin's natural hydration processes
Improve the appearance of hyper-pigmented skin
Stimulate collagen production
Repair and remodel the skin
After two weeks of usage*:
95% reported that their skin felt smooth following use
81% reported that their skin felt glowing following use
87% reported that their skin felt soft following use
92% of participants would absolutely use the Face Mask Serum again
96% of participants used the Face Mask Serum 1-2x per day
*Based on a consumer perception survey of 23 HigherDOSE customers who used the Glow Serum product for 2 weeks or more

** Based on the clinical studies conducted on individual ingredients
GET GLOWING:
After gently cleansing skin, apply Glow Serum over face and neck and allow the bio-nutrients to absorb into the skin. If you are using without technology, continue with your skincare routine.
BOOST THE BENEFITS:
If you are going for a supercharged Glow, secure your HD Red Light Face Mask device to your head and treat skin for a minimum of 10 minutes. The HD Glow Serum's light-activated ingredients will boost the benefits of this Red Light Therapy session. We recommend using your Mask and Glow Serum together 3-5 times per week.
SEAL THE DEAL:
After your treatment, splash your face with icy-cold water and re-apply a few more Glow Serum drops to the face to lock in all-day radiance.
Awesome
You guys are the best! Everyone says I glow.
Love it
I won't give my age bc nobody knows it.
And the mask and serum allow me to keep the best of myself and w/o makeup to boot. Yes- over 50- pass for 40s and never been a pin cushion yet for a plastic surgeon 🤣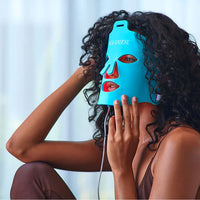 HigherDOSE Red Light Face Mask
ADD FOR $349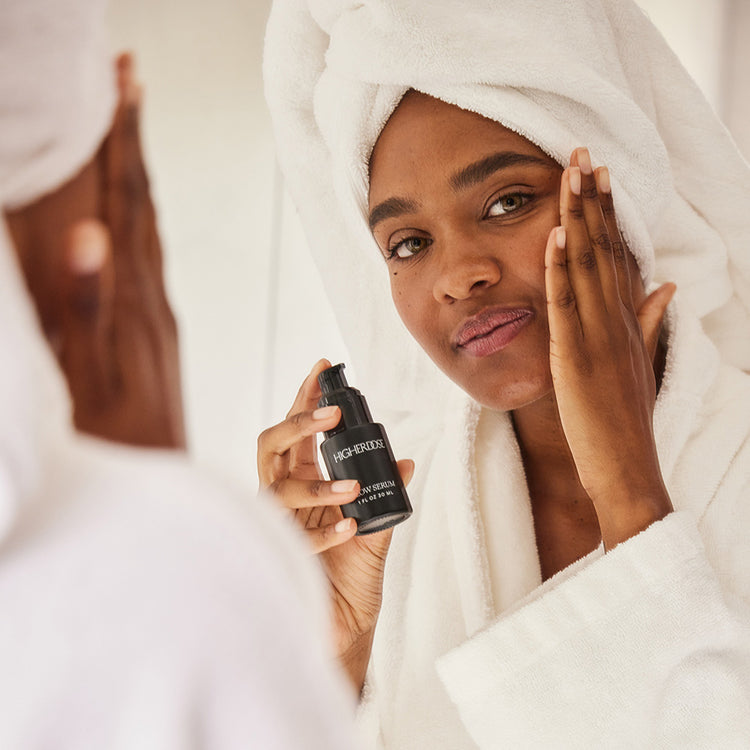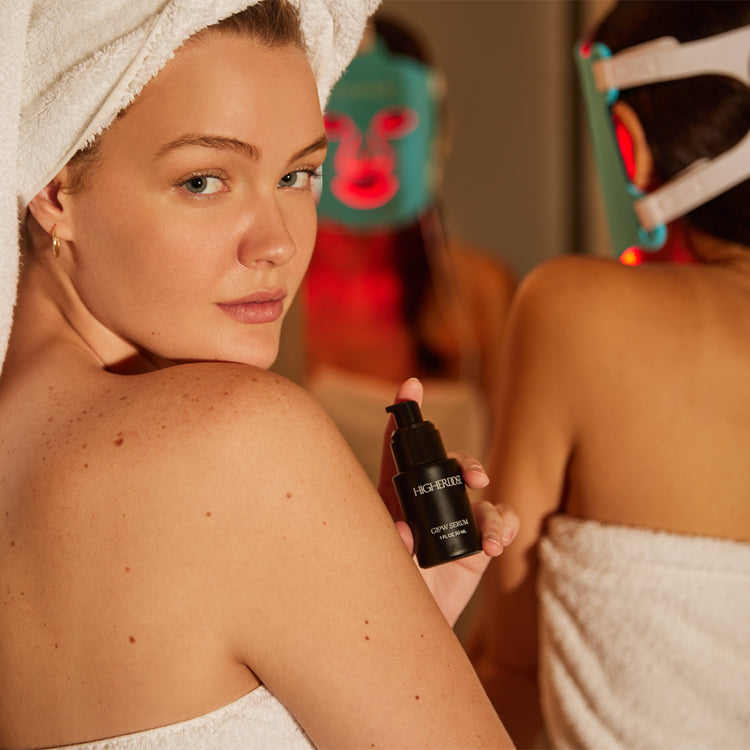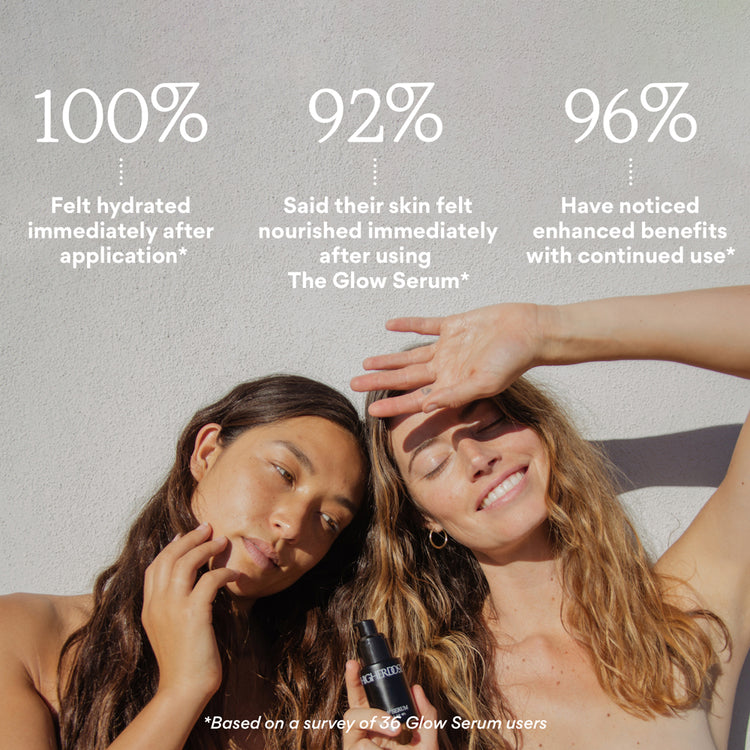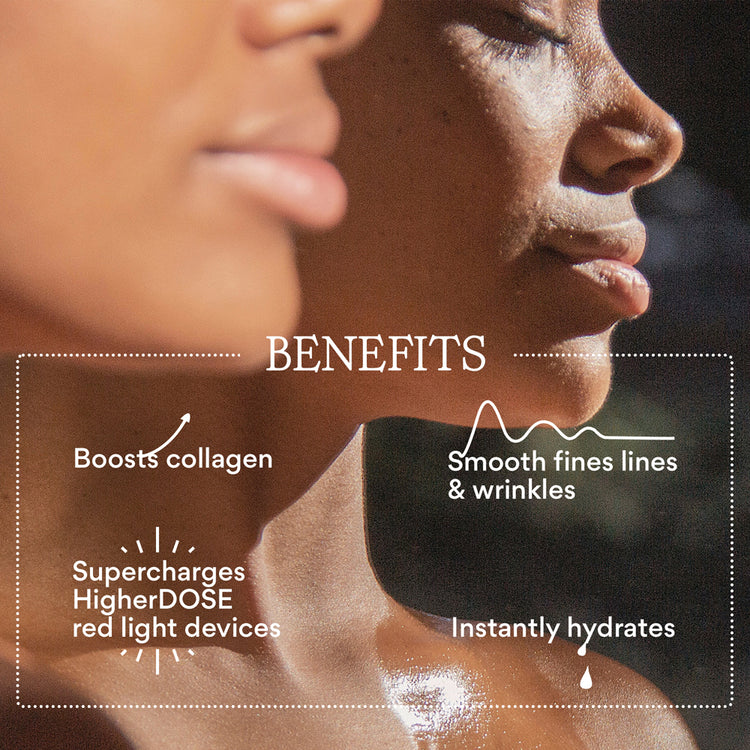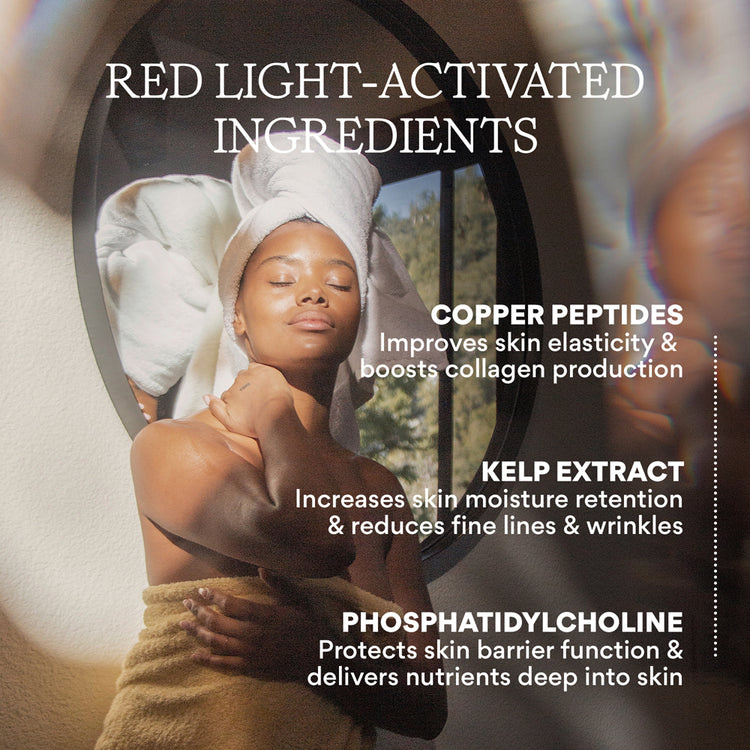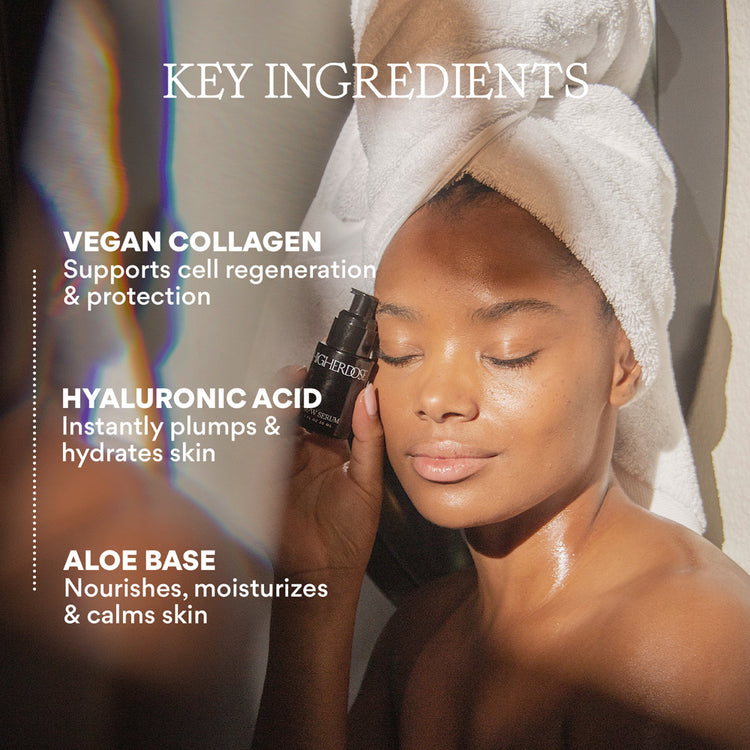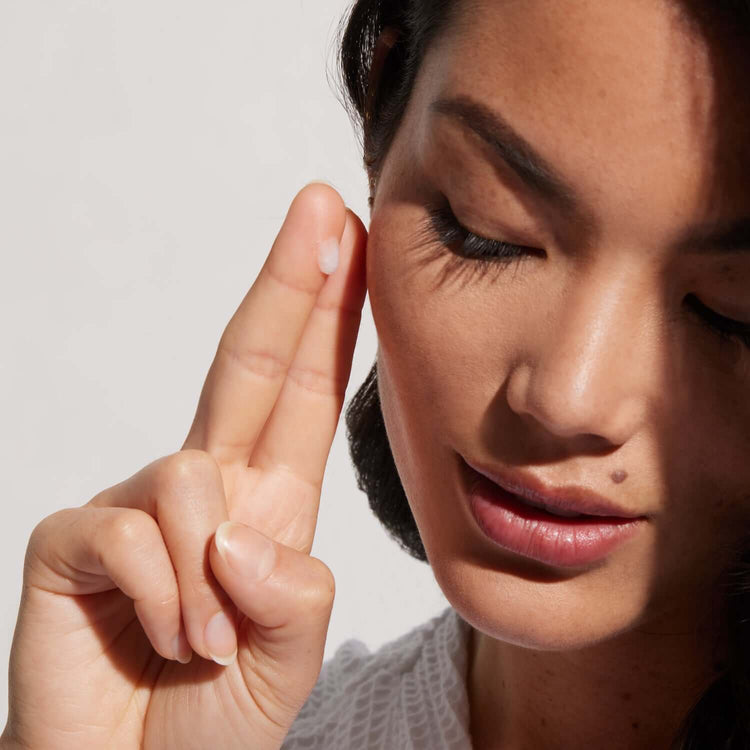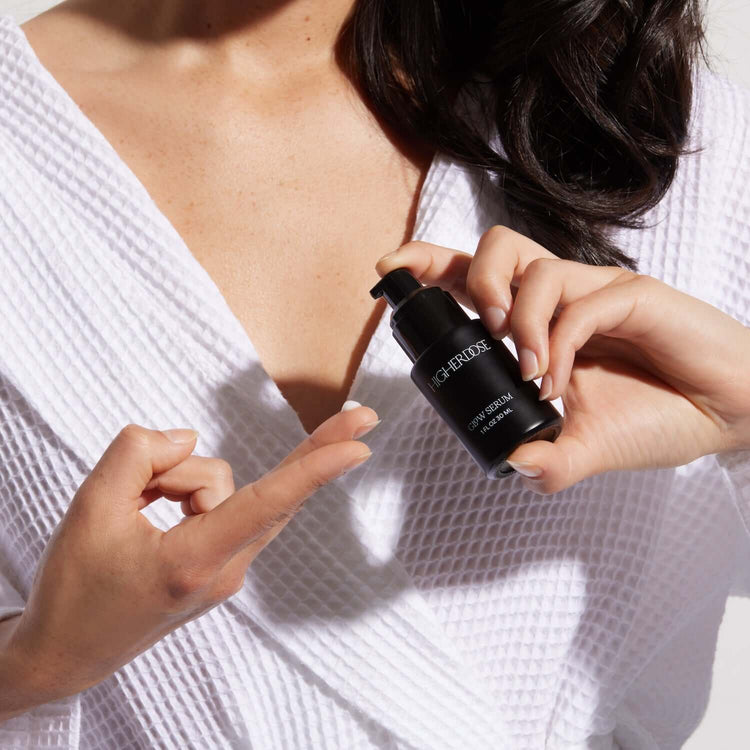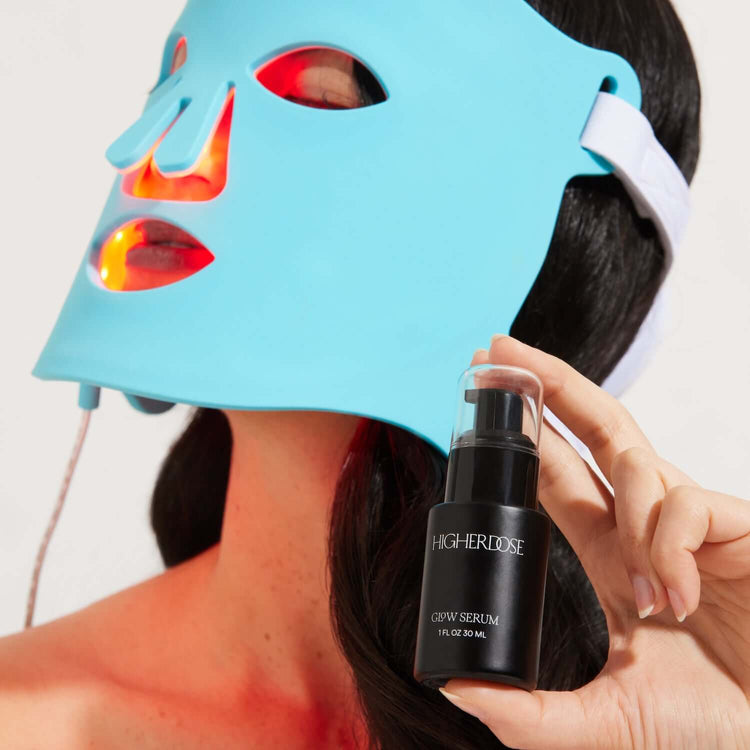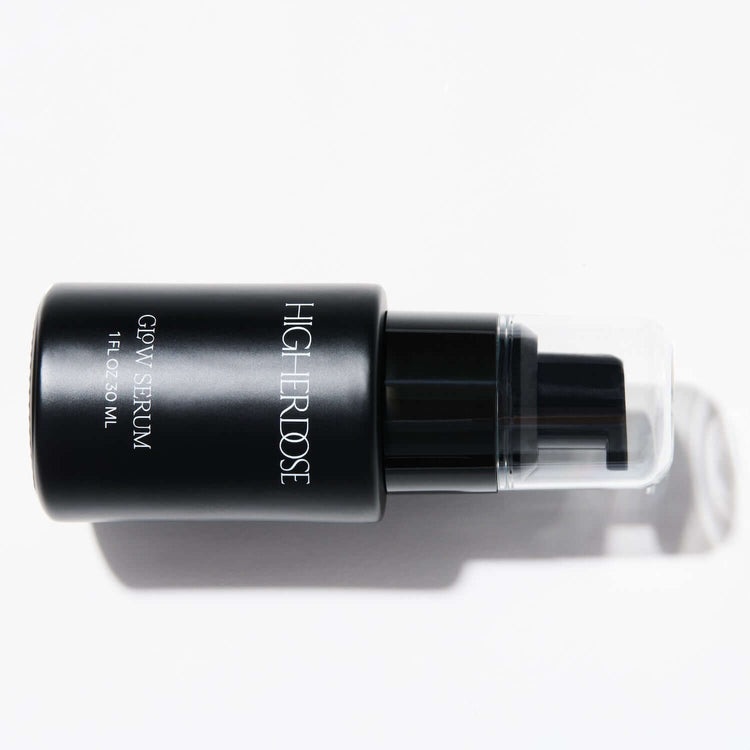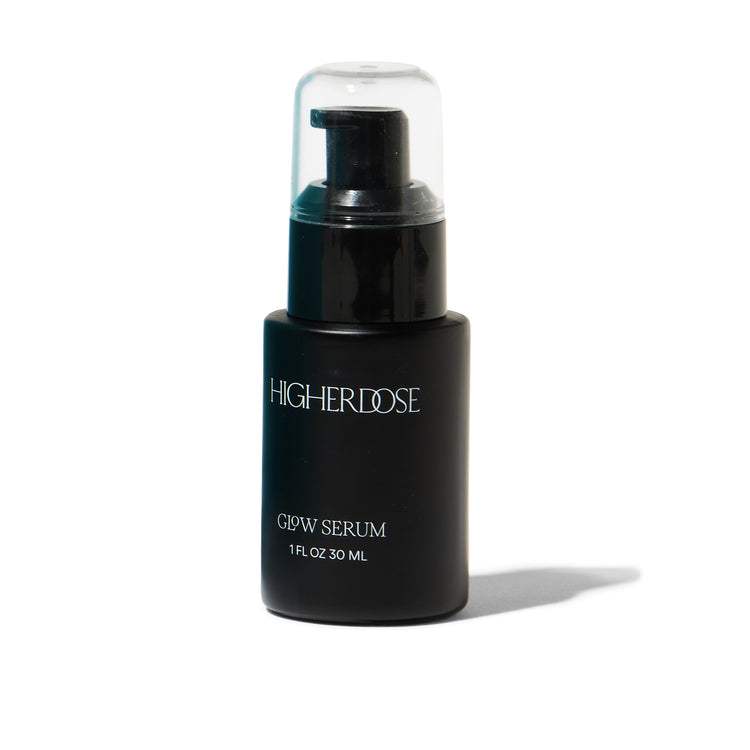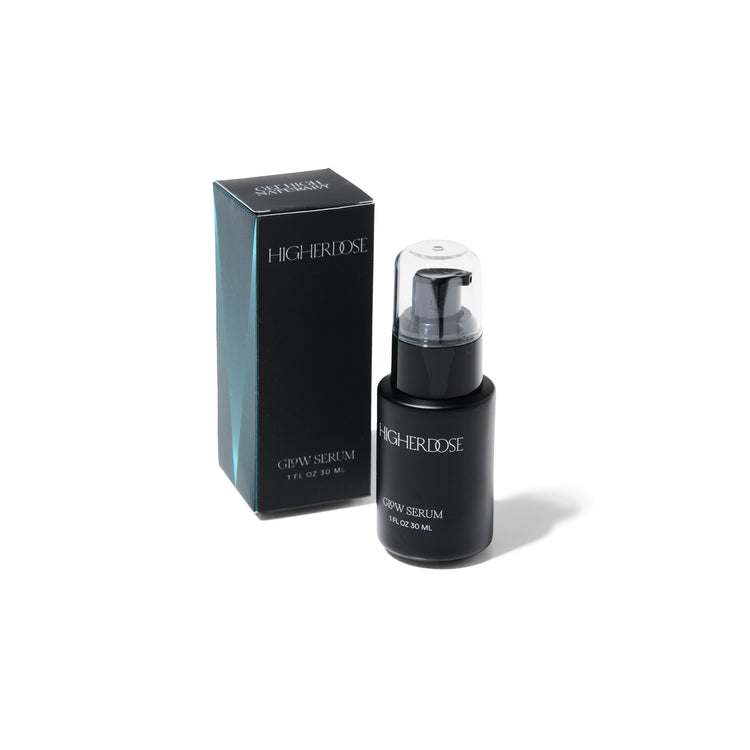 It's what's inside that counts.
the Key ingredients
COPPER PEPTIDE GHK-CU
is known to reduce the appearance of fine lines and wrinkles by increasing collagen proteins: a vital component in our skin's natural regeneration process.
PHOSPHATIDYLCHOLINE
is a photosensitive compound (*its already powerful benefits are activated by light) that is shown to deliver active ingredients to the deepest layers of your skin, while keeping the skin soft and supple by boosting your skin's natural hydration process.
COLLUME® (VEGAN COLLAGEN)
is a 100% vegan animal-free collagen technology famous for being the first bio-identical compound to human collagen, shown to support unparalleled cellular regeneration and protection.
HumaColl21® (BIO-IDENTICAL COLLAGEN )
is the first ever bio-designed collagen shown to tighten the skin, plump volume, and support a youthful, radiant look.
ELASTAPURE®
is a bio-identical elastin with an unmatched purity and a unique ability to act as the protein your skin needs to stretch and recoil optimally, leaving you with a smooth, stretched finish.
HyaCare® ( NANO HYALURONIC ACID)
is shown to increase the skin's water content & loss of elasticity that leads to wrinkles – smoothing lines and adding youthful volume.
EPSEAMA™ ( KELP EXTRACT)
is an innovative skin rejuvenation compound shown to prevent aging and regulate inflammation of the skin, with outstanding results after only one month.
SEPILIFT (HYDROXYPROLINE)
is a protein that plays a key role in the synthesis & stability of collagen, decreasing muscle contractions in the face and smoothing the appearance of fine lines.
Before and after
Real ingredients, proven results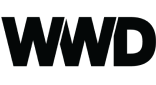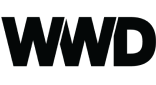 Awesome
You guys are the best! Everyone says I glow.
Love it
I won't give my age bc nobody knows it.
And the mask and serum allow me to keep the best of myself and w/o makeup to boot. Yes- over 50- pass for 40s and never been a pin cushion yet for a plastic surgeon 🤣