High-Dration Powder
Sweat, high-drate, repeat.
Regular price

Sale price

$39 USD

Unit price

per
Sweat hard, hydrate hard. We take hydrating just as seriously as we take sweating. We decided to create the ultimate hydration powder to follow up on our next-level sweat sessions. Introducing HIGH-DRATION POWDER, not your average electrolyte powder. We've combined a unique blend of magnesium and marine algae minerals with the ultra-hydrating duo of watermelon and coconut powders for the ultimate replenishment of your electrolytes post sauna or gym session. Designed to hydrate, replenish, and amplify your glow, our delicious blend is also loaded with B vitamins, making HIGH-DRATION Powder a recovery and glow powerhouse.

HD Tip: Hydration is a vital step in any wellness routine, even if you didn't sweat today! In a culture drowning in caffeine, booze, and high-energy activities, our bodies are all thirstier than we think – and water alone won't always cut it. Elevate your hydration habits with electrolytes and enjoy the ultimate inside-out glow.
SIZE: 15 pouches per box
SERVINGS: 15 servings (1 serving per ouch)
INGREDIENTS: Magnesium Bisglycinate Chelate, Himalayan Pink Sea Salt, Coconut Water Powder, Watermelon Fruit Powder, Extramel (Melon Pulp), L-Theanine, Choline, Calcium Citrate, Zinc, L-Carnitine HCI, Fiber, Vitamin C, Thiamin (B1), Riboflavin (B2), Vitamin B6
Add HIGH-DRATION Powder to your water after you sweat or workout to heighten your rehydration + recovery routine.
STEP ONE: GET HOT
There's no wrong time to HIGH-DRATE – but we love it after getting hot (in your Sauna Blanket or at the gym).
STEP TWO: GET WET
Mix one pouch of HIGH-DRATION Powder into 6-8 oz of water. Drink up.
STEP THREE: REPEAT
Super-charge your water with Magnesium and vital electrolytes daily. HIGH-DRATE, on repeat.
How likely are you to recommend the product?:
Not likely at all
Extremely likely
Likes:
Quality of products, and service efficiency.
My new daily regimen!
Watermelon and coconut--my two favorite hydration go-tos in one! Love the taste and sachets make it convenient for travel.
No review
Product was a gift to someone else who uses it regularly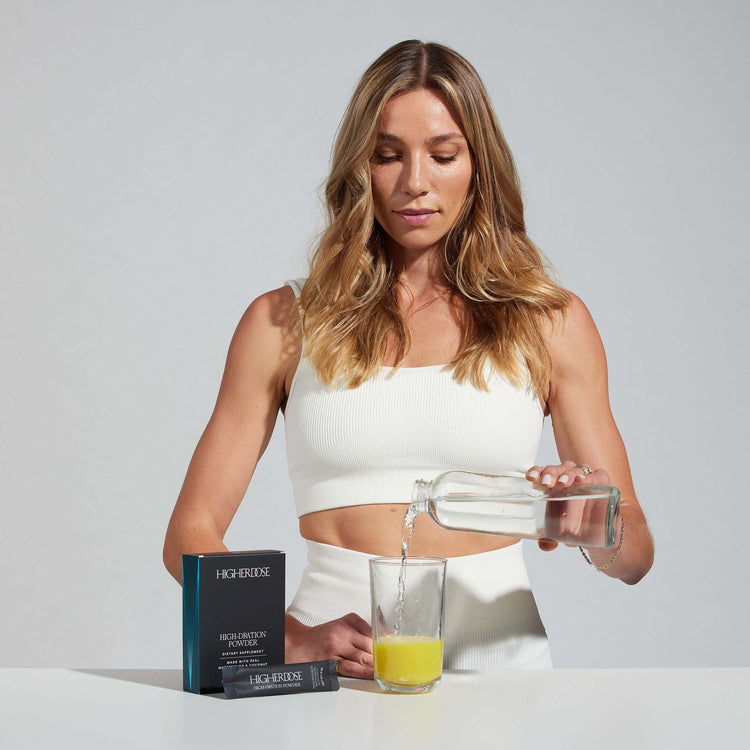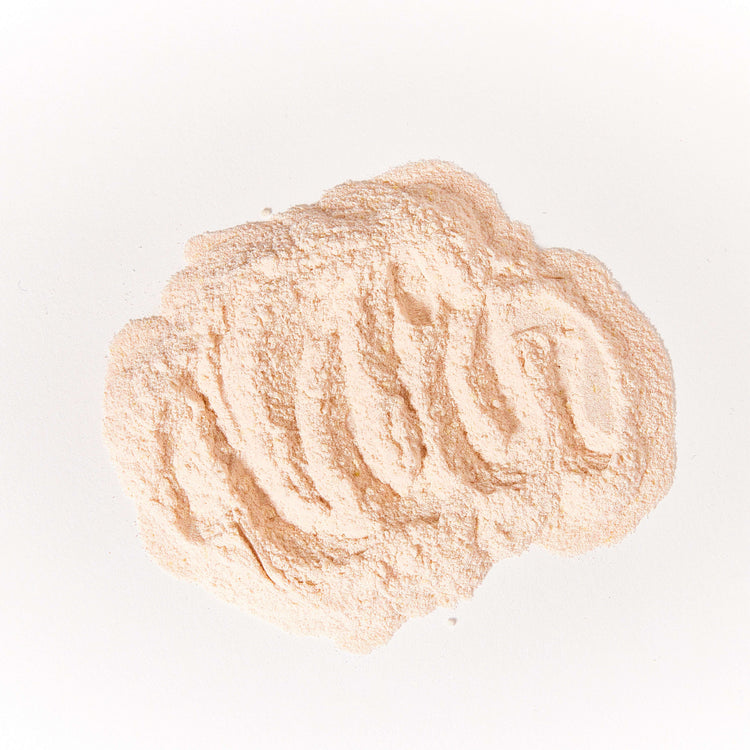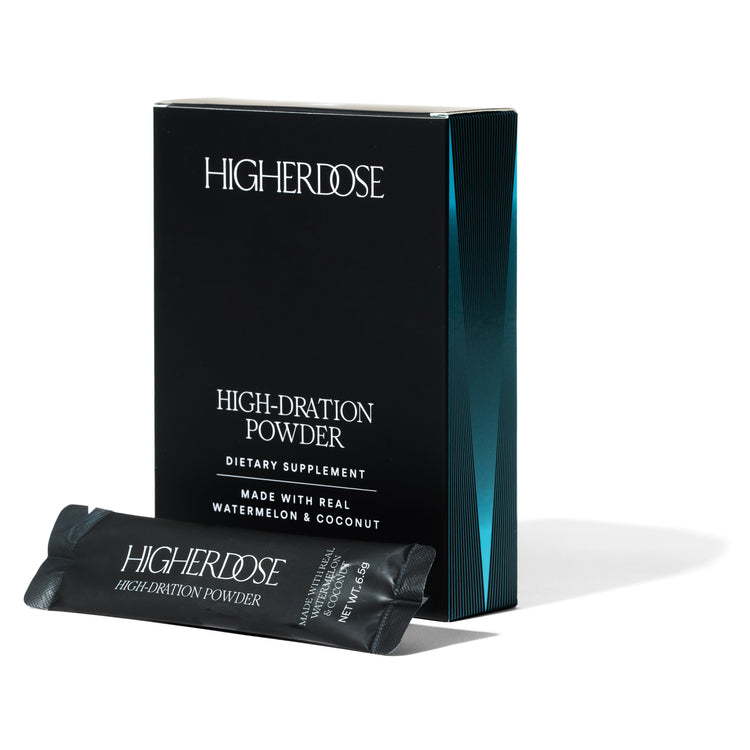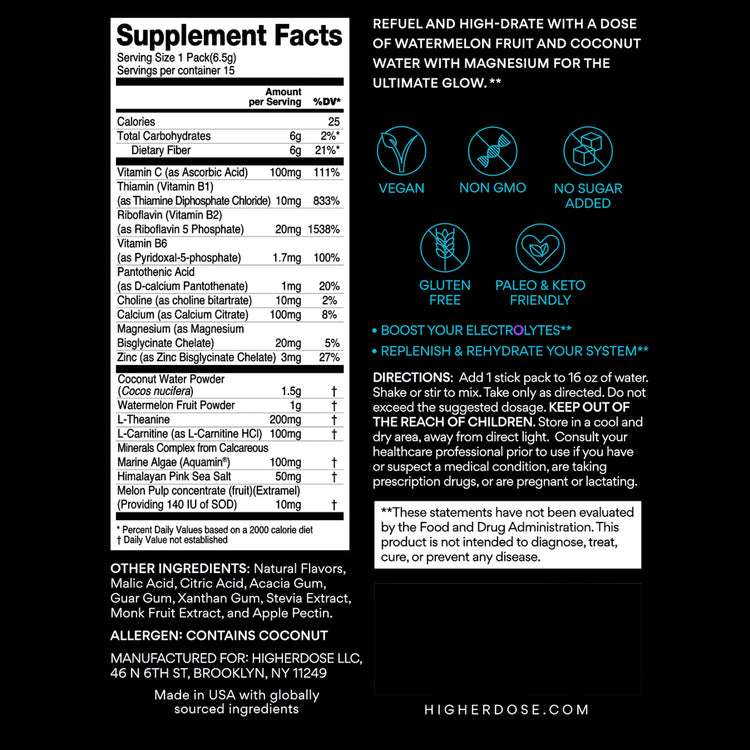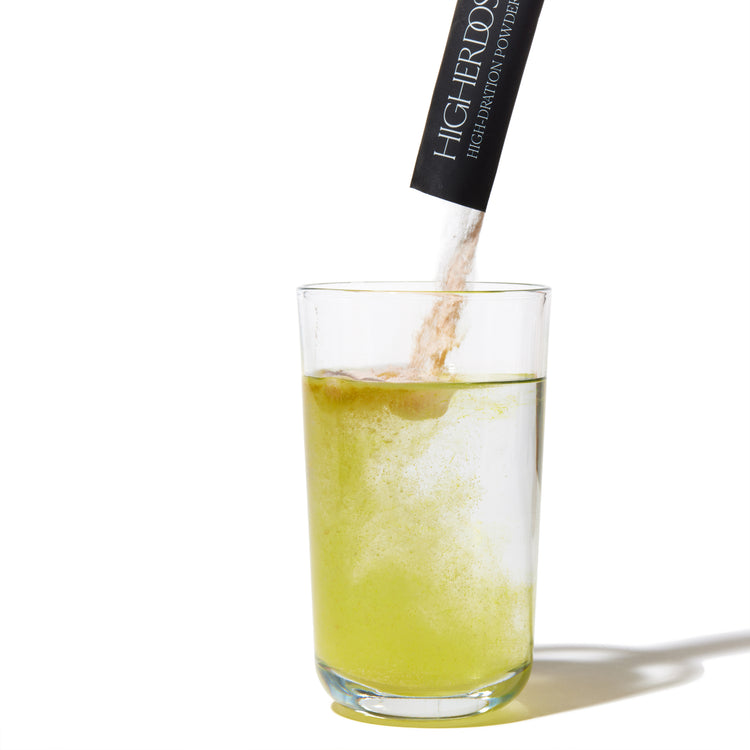 It's what's inside that counts.
the Key ingredients
WATERMELON FRUIT POWDER
Watermelon juice is full of phytonutrients, antioxidants, amino acids, vitamins, and hydrating electrolytes like magnesium and potassium. Rich in arginine (an amino acid involved in the synthesis of nitric oxide) and citrulline, this powder promotes healthy skin & hair, efficient post-exercise muscle recovery, abundant energy, and improved exercise performance.
COCONUT WATER POWDER
Replenish the body's essential minerals after a deep sweat session or intense workout. Coconut water powder packs in our favorite electrolytes (Calcium, potassium and Magnesium) to refuel your system, rehydrate your muscles, and replenish your energy stores.
EXTRAMEL (MELON PULP)
A unique melon juice concentrate that is clinically studied to promote removal of free radicals and help in reduction of stress. It also positively impacts several stress-associated symptoms from sleeplessness & physical pain to irritability & weariness, helping to balance emotional wellbeing and physical performance.
MAGNESIUM BISGLYCINATE CHELATE
Re-up your electrolyte complex with Magnesium: an essential mineral responsible for 300+ bodily processes. At HD, we love Mg for powerfully rehydrating the body and flushing out any toxins that were not excreted via sweat. This particular magnesium supplement is known for its high absorbability, which is important because most Americans are deficient.
HIMALAYAN PINK SEA SALT
Sodium is an essential electrolyte responsible for balancing your fluid levels and keeping your body hydrated. You lose salt and water when you sweat a lot. It's important that you refuel your system by replacing both. Salt from its purest form, Himalayan Pink Sea Salt, is one of the most powerful ways to replenish essential minerals.
L-THEANINE
A natural bioactive compound found in green tea. A dose of L-Theanine promotes wakeful relaxation and mental focus by lowering the brain chemicals that lead to stress and anxiety. This is cognitive stability, not sedation. Enjoy your calm, without the doze.
AQUAMIN
Think: Gatorade of the sea. Aquamin Calcareous Marine Algae is 100% calcified seaweed from the North Atlantic seabed: a unique multimineral complex providing bioactive magnesium, calcium, and 72 trace marine minerals that support joint, muscle, bone. Calcium and Magnesium are both potent electrolytes that help to rehydrate your body after you sweat.
CHOLINE
Choline is an essential nutrient found in meats, dairy, eggs, and cruciferous vegetables. This nutrient is a vital neurotransmitter for memory, mood, muscle and nerve function.
CALCIUM CITRATE
The most abundant mineral in the human body, with 88% found in the bones. Calcium is critical to bone , muscle and nerve function, and blood vessel. It's also a potent electrolyte that helps your body rehydrate after intense exercise or excessive sweating.
ZINC
An essential mineral found in red meat, oysters, beans, and nuts. Zn is required for the activity of around a hundred enzymes, making it critical for protein synthesis, DNA synthesis, cellular function, and immune system. Dose yourself with Zinc for natural resistance.
L-CARNITINE HCI
L-Carnitine HCI is a chemical that helps turn body fat into energy, making it critical for energy production and the transport of long-chain fatty acids. Carnitine helps fuel optimal exercise and post-workout muscle recovery. Go hard, then high-drate.
FIBER
Fiber is essential for maintaining gut health, cleansing the colon, and ridding the body of unwanted toxins. Getting your daily fiber intake right can prevent or relieve constipation and balance your system
VITAMIN C
Found in fruits and veggies, Vitamin C is a potent antioxidant that supports immune system, helps with collagen production, and protects against free radical damage.
THIAMIN (B1)
Thiamin plays a critical role in macronutrient & energy metabolism, muscle & nerve function.
RIBOFLAVIN (B2)
Riboflavin plays a major role in cellular oxygen utilization, energy production, cellular function, and macronutrient metabolism.
VITAMIN B6
This powerful B vitamin is involved in more than 100 enzyme reactions, including protein metabolism and neurotransmitter activity, making B6 essential for heart and immune system.
Manufactured at cGMP Facility
What our community is saying
"I'm amazed at how nice the flavor is! I've noticed a decrease in my desire for coffee!"
"This powder energized me and made me more alert and focused."
"I feel my body is craving it after my sauna bag sessions. Overall, I feel hydrated, clear-headed, and energized."
"I took hydration powder during lunch and felt noticeably energized. No afternoon slump like I usually get!"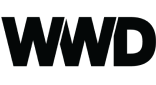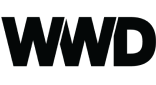 How likely are you to recommend the product?:
Not likely at all
Extremely likely
Likes:
Quality of products, and service efficiency.
My new daily regimen!
Watermelon and coconut--my two favorite hydration go-tos in one! Love the taste and sachets make it convenient for travel.
No review
Product was a gift to someone else who uses it regularly